WSBK Aragon 2017
02-Apr-17 Motorland Aragon Circuit
Alcañiz, Spain
Small and perfectly formed - for a party! We had a blast there last year; we stay near the track right in town for a perfect weekend.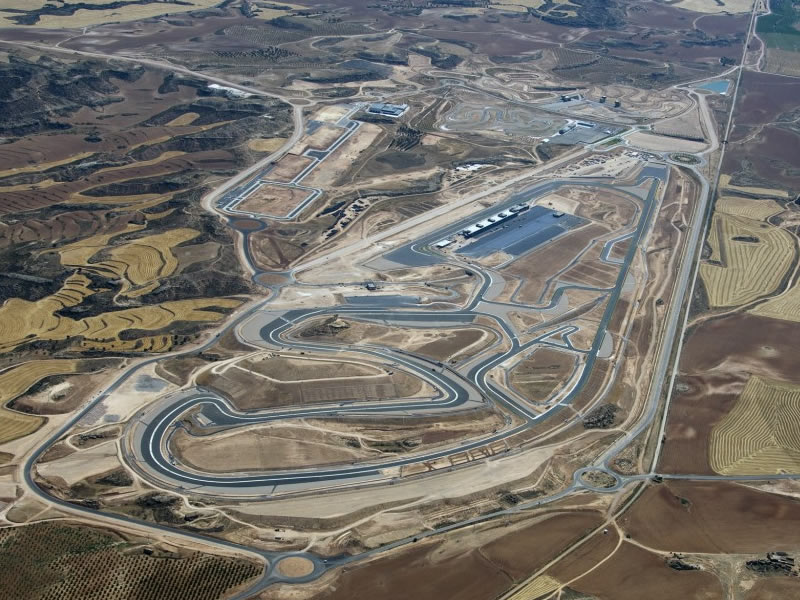 We have been the leading (and often only!) tour operator to the Aragon SBK and MotoGP events, so we have a pretty good idea what is in store for you.

A lot.

The setting is very rural - about a 3 hr drive from Barcelona, or 2 hours from the nearest airport (Zaragoza or Reus) and set amongst stunning rugged scenery that you imagine looked about the same at the time of the Moorish occupation. The place is steeped in history. Driving through the lovely town of Alcaniz under the stunning castle dominating the skyline, we half expected El Cid to come charging down from the hills!

The circuit is very modern, with numerous superb features that present huge challenges to the riders and exciting viewing for all. This is a track you want to get around and see (but bring sunscreen & a hat!).

Since there are only 4 hotels in Alcaniz, accommodation anywhere near the circuit is all but impossible (teams are routinely staying 50-70 minutes away!) ...Unless you happen to come with Pole Position Travel! We have a delightful small hotel right in the heart of Alcaniz, just 6km from the track, an easy 15 minutes each way. We stay here because once you get out of the small town into the vast surrounding rural areas there is no nightlife whatsoever (which means of course everyone who has come into the town works extra hard to live it up!). Our Spanish-speaking guide will ensure you stay out of trouble!

Be sure to let us know your travel/flight plans! We will seek to consolidate customers flying into one of the airports to facilitate ground transfers.

Best of all - as the FIRST European round with our partners, the World Champions Kawasaki, we are holding a special dinner Saturday night inside their swish new hospitality unit - joined of course by the World Champ himself, Jonathan Rea and/or Tom Sykes! This is included in our package!

If you are looking for deluxe accommodation, we can offer the hotel we use for MotoGP. About 50 minutes from the track, this is a hotel that the Spanish royal family uses... Contact us.


n.b. as in all our SBK events, we require a minimum number of attendees to send a guide. If we fail to reach that number you will be offered a reduced price for a 'self guided' package or full refund.